Click the thumbnail to watch the video, change it around and then make your own version!
A note: Ok, as always, a reminder to my usual friends, fans and followers: Tech Tips for Nerds posts are posts that I make when I overcome some frustrating technical obstacle in my side career as a programmer/web designer/editor/etc. I put these here because I had to Google several times to find this info, so I'm making it easier for the next person to find.
Fixing OSX Lion's Annoying (but useful) Finder File Sorting Toolbar
Or "Why can't I sort files by date, type, modified, name, etc by clicking on the headings at the top of the Finder window?"
Ok, so I upgraded to OS X Lion on my mac to get access to iCloud features and keep up with the times. There are a lot of improvements (folder merging!), but several REALLY frustrating changes. Since Apple typically doesn't include any sort of instructions beyond a condescending single page white card with most of their products, you basically just have to figure things out on your own.
One thing that inspired an immediate urge to rage-quit was being confronted with this: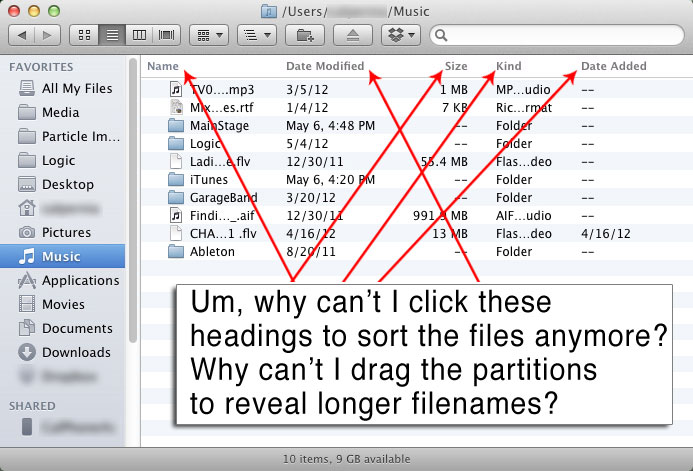 Um, why can't I click these headings to sort the files anymore? Why can't I drag the partitions to reveal longer filenames?
I finally figured out that to restore the old functionality you have to go to VIEW > ARRANGE BY > and select NONE. It's a folder-by-folder setting, and OSX Lion seemed to have set my basic /User, /Pictures, /Music etc folders to the new "Arrange By" behavior so I had to change each one.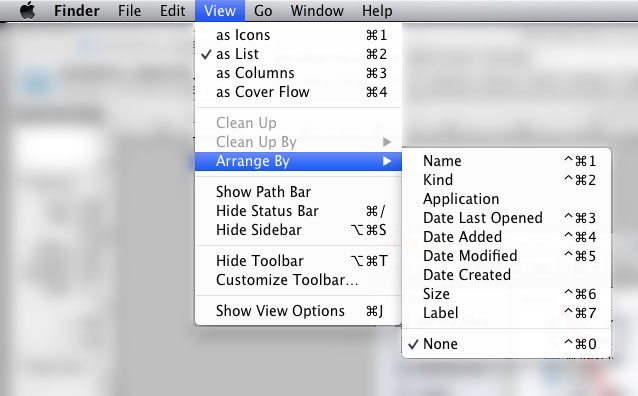 Select NONE to get the old clickable sorting column headers in OS X Lion's Finder windows.
Once you've selected NONE, you get the old functionality back, which is much easier than clicking the flyout "Sort By" and "Arrange By" buttons at the top of the Finder window, and also restores your ability to drag column widths if you have longer file names.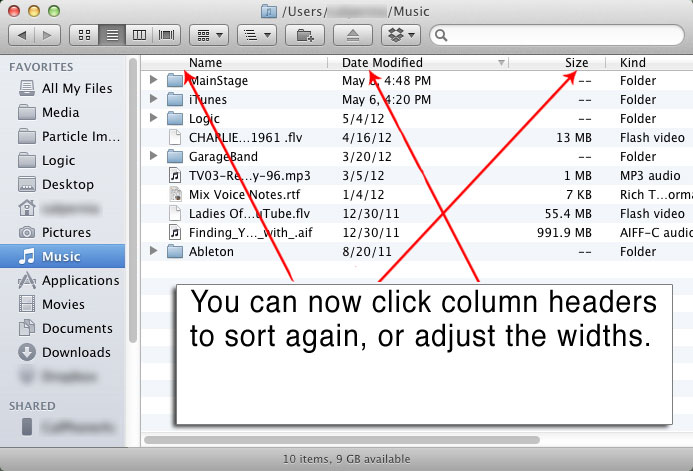 Fixed!
"Arranging by" and "Sorting by" are useful new features, but having them enabled by default with no explanation leaves power users like me with unclickable column headers and no explanation, which equals frustration. Read this article for more explanation on how to use the new behaviors: http://inner.geek.nz/archives/2011/08/10/howto-fix-file-sorting-in-finders-column-view-on-mac-os-x-lion/